Sling strops
Lite Flite offer a large standard assortment of rescue sling strops.
Lite Flite's rescue sling strops come in all sorts, from traditional light weight strops for maritime use to medium or heavy weight strops for helicopter rescue purposes.
Closed or open
All types of strops can be closed or open. If open, one side of the strop can stay attached to the hoist hook while the other is led, by the rescuer, under the arms of the casualty and then hooked back on. Most of our rescue sling strops are equipped with our unique Self Securing System: As the name indicates, the victim can secure himself, simply by wearing the strop and grapping the large yellow handles. Additionally, our strops can have crotch straps and they can have handles different places to assist the rescuer in his work. As standard, our strops are bright orange and have outside reflex stripes for high visibility and non-slip surfaces on the inside.  All hardware is made of anti-corrosion treated stainless steel and have A-rings that are compatible with any hoist hook.
Medium and heavy
Medium and heavy weight strops are typically used for helicopter rescue purposes. Even while it is buoyant, it will not be blown away by rotor downwash. This is naturally a very important safety feature, as massive rotor downwash will make the strop impossible to catch and maybe even hazardous to the helicopter itself. Securing the casualty can be done with help from the rescuer or by the victim himself.
Integrated hypothermia strop
We also have a double sling strop with integrated hypothermia strop. The unique design allows the sling to be used as a normal, single sling. When the casualty is captured the same way as always, it is an easy task to separate the outer sling and drag it below the knees. A semi-sitting position is held, preventing the dangerous, and sometimes fatal, compartment syndrome, often suffered by hypothermia victims. Naturally, then main sling incorporates the self-securing system.
Light weight 
Light weight strops are typically used for maritime purposes, i.e. in man overboard situations. They are easy to handle, can be thrown a reasonable distance with no risk of injuring the casualty, they will float, and a conscious casualty will have little or no trouble securing himself. Light weight strops typically serve as a replacement for the old ring- or horseshoe shaped lifebuoys. Our light weight strops are of very high quality made for demanding customers and cannot be compared to the cheap strops offered by some boat and caravan dealers.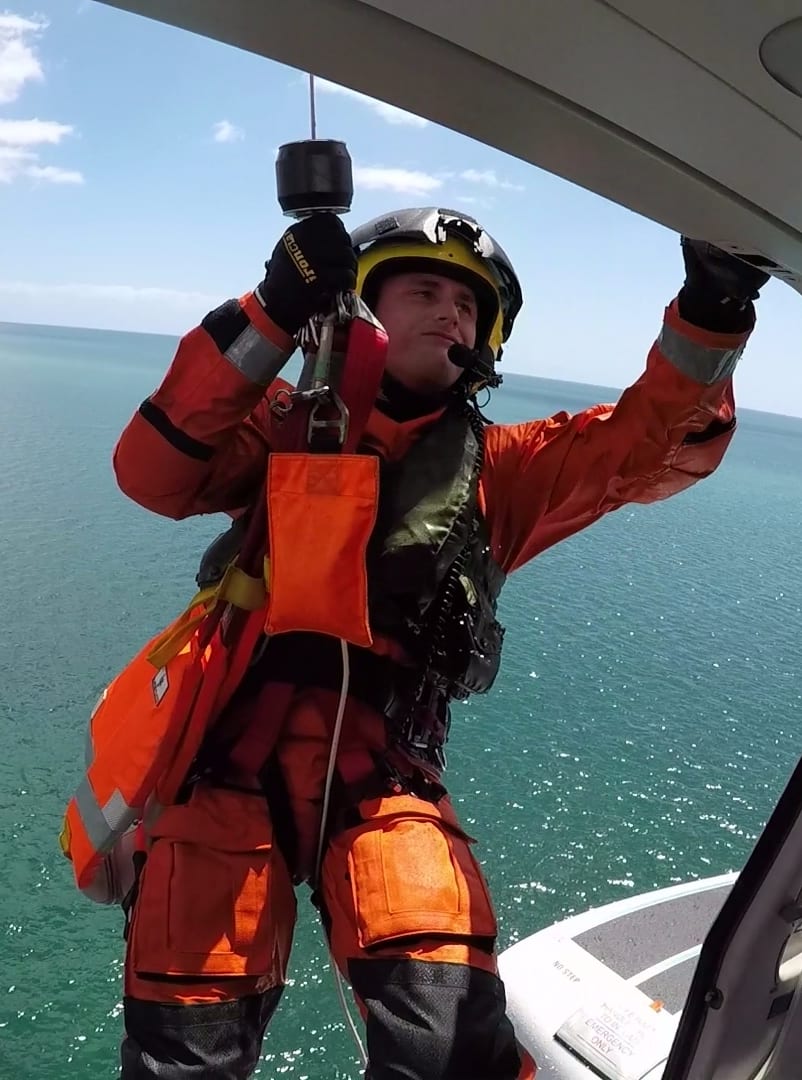 Multiple rescue possibilities
Our Rescue Sling Wrap offers a high degree of safety for the casualty. It is designed primarily for evacuation from ships or ground, but some operators have managed to develop SOP for use in water.
Our wrap is made as simple as possible, with no extra grips (after all, it is not designed to be used as a stretcher), no bells and no whissels. The design features thigh support with no direct contact with the crotch area, chest strap for securing the casualty / evacuee and a soft head support.
Type certification
Lite Flite Rescue Sling Strops are tested and conforms to European Council Regulative 2016/425 and comply with European norm EN1498:2006. The EC Regulative has replaced the old EC Directive 89/686. As the  European Norm is not "harmonized", rescue sling strops are not type certified, but still made and tested for conformacy.
| Part No. | Product | |
| --- | --- | --- |
| 60087315 | Rescue Sling Strop, Open, 170cm, w. crotch strap | Product Sheet |
| 60087316 | Rescue Sling Strop, closed, 190cm, single web, NSN 1730226155593 | |
| 60087321 | Rescue Sling Strop, closed, short 170cm for inboard hoist, 1730226155590 | |
| 60087322 | Hypothermia Sling Strop, Open, Single, Black risers | |
| 60087323 | Rescue Sling Strop, open, 210cm, stiff, quad web, yellow risers | |
| 60087326 | Rescue Sling Strop, open, 190cm, stiff, quad web, red risers | |
| 60087328 | Rescue Sling Strop, closed, long, heavy, double web risers, sewn slider | |
| 60087329 | Rescue Sling Strop, Open, 190cm, 0,8kg | |
| 60087331 | Rescue Sling Strop, Open, 210cm, NSN 4240223001501 | |
| 60087332 | Rescue Sling Strop, Reinforced open | |
| 60087337 | Rescue sling strop, Open, 220cm, 2kg, stiff risers | |
| 60087338 | Rescue Sling Strop, closed, long, heavy, double web risers, metal slider | |
| 60087344 | Rescue Sling Strop, Open 170cm, double web risers | |
| | | |
| 60087361 | Rescue Sling Strop, Open, 210cm, w. crotch strap / pocket | |
| 60087342 | Rescue Sling Strop, double, hypothermia, stiffened risers, closed | |
| | | |
| 60087314 | Rescue Sling Strop, closed, junior 140cm, single web, NSN 1730226285132 | |
| 60087317 | Personal Rescue Sling Strop, Buoyant, w. chest strap | |
| 60087327 | Rescue Sling Strop, Buoyant, w. chest strap, D-ring | |
| | | |
| 60087340 | Rescue Sling Wrap, 3 point suspension | |
| 60087340I | Rescue Sling Wrap, 3 point suspension, w/o reflex | |
| 60087346 | Rescue Sling Wrap XL, 3 point suspension | |
| | | |
| 60087381 | Child/Animal Rescue Bag, Ø50x70cm, NSN 1670226276028 | |
| 60087382 | Child/Animal Rescue Bag, Ø50x60cm, clear top, drained bottom | |
| | | |
| Note: | This is just a selection of our range of products. Please ask for what you do not see ! | |