QUICK RELEASE BOX
QRB MK-5
With the Lite Flite Quick Release Box the winchman is always able to release himself if an emergency occurs or as part of a standard operation.
The QRB provides a way of quick and safe disconnection from the hoist wire in case of trouble, greatly reducing the need for cable cutting.
Cable cut
If a winchman gets into problems, entangled on a wreckage or stuck between rocks in the mountains, the helicopter has a problem. In a situation like that the crew can be forced to cut the cable in order to not jeopardize the helicopter and the crew. If this happens for a helicopter equipped with a single hoist only, the helicopter is not able to get back to rescue the winchman.
Open under tension
Our popular and market leading Quick Release Box mk-5 is designed with the ability to open under tension. This is a very important safety feature, as the winchman is always able to release himself in an emergency. If a hoist is stuck, the secondary A-ring at the suspension strap allows a smooth transfer to a secondary hoist hook. The QRB is thus a vital piece of the winchman's personal protection equipment.  You can also use the QRB during standard operation procedures.  Unlike similar products on the market, it has the added advantage of being easy to reconnect again.
Fixed position
Lite Flite QRB is compatible with all Lite Flite hoist harnesses. The QRB is placed in a fixed spot which is not adjustable. This is a safety feature, as the winchman will always know where the QRB is placed in case of emergency.
Stainless steel
The QRB mk-5 is made almost entirely of corrosion treated stainless steel as it is the best material to use in saline environments. Even the springs are made of stainless steel. Only the back plate and the turning lid with the protruding, tactile safe indicator bar is made of anodized aluminum. Once a year, the QRB must be disassembled, cleaned, lubricated with a special aero grade grease and the stainless springs should be changed, but daily maintenance is limited to flushing with cold water. The precision CNC milled parts are all contributing to the high quality and smooth, though distinct operation.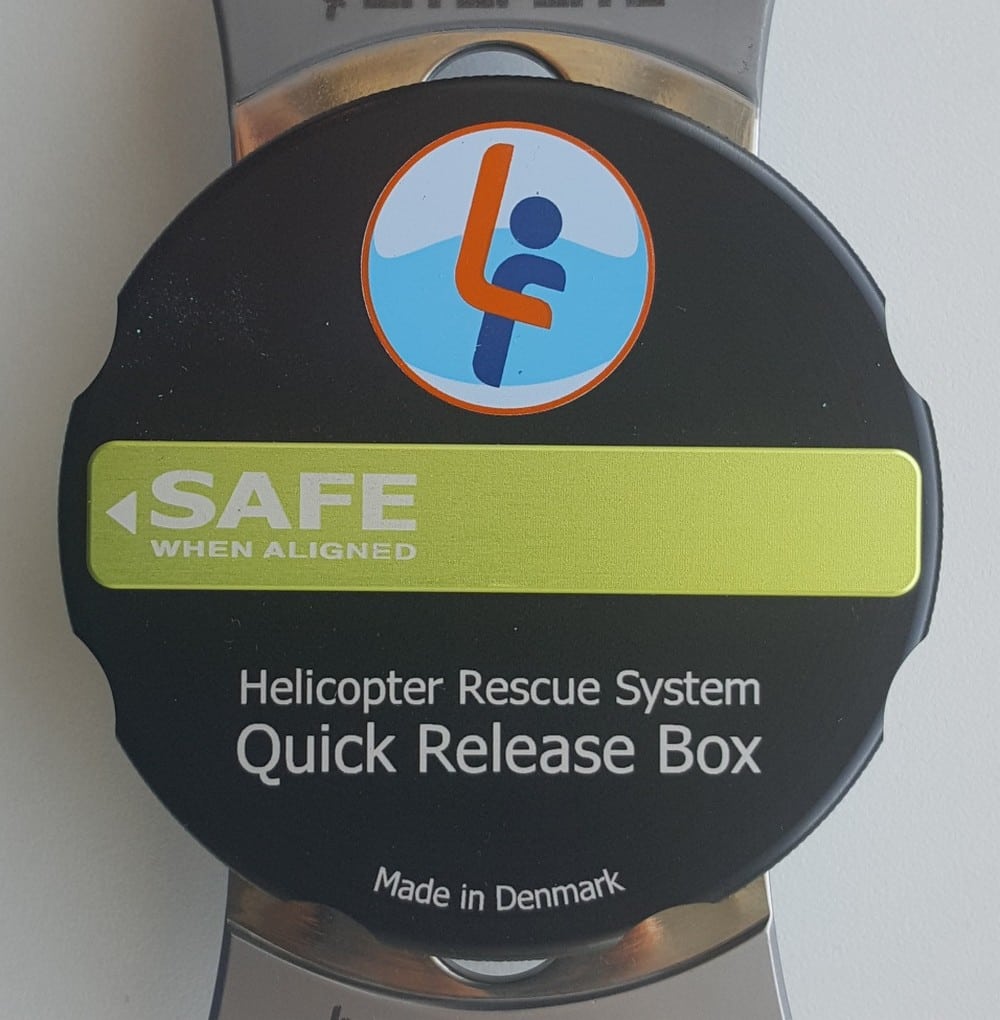 EASY TO USE
Lite Flite QRB mk-5 has replaced previous versions. The latest version has been optimized to be even more user-friendly, as wrong insertion of the harness tang into the QRB is impossible, due to the redesigned lid featuring a lobe covering the small gap.
type certification
Lite Flite QRB assembly is tested and type certified as part of Lite Flite hoist harness system according to European Council directive 89/686 in conformance with European norms EN813:2008 and EN1497:2007. The quality management system is audited by Notified Body: Force Certification, Denmark.  Certificate No. DK-0200-PPE-2101.
| Part No. | Product | |
| --- | --- | --- |
| 80049010 | Quick Release Box assy., incl. Suspension Strap, NSN 1680223091736, AH 704A41816095, CONSISTING OF: | Product Sheet |
| 90019010 | Quick Release Box, QRB mk-5 | |
| 60081471 | QRB Suspension Strap NG, 275 mm, A+A ring NSN 4240226309689 | |
| | | |
| 80049014 | Quick Release Box assy., incl. NLF Suspension Strap, NSN 1680226147822 CONSISTING OF: | |
| 90019010 | Quick Release Box, QRB mk-5 | |
| 60081476 | QRB Suspension Strap NG, 275 mm, D+D ring NLF | |
| | | |
| 60081465 | QRB Suspension Strap FMV, 460 mm, A+D ring, extra QRB tang | |
| 60081466 | Karabiner Suspension Strap FMV, 460 mm, A+D ring | |
| 60081472 | QRB Suspension Strap, 275 mm, D+D ring | |
| | | |
| 80049085 | QRB mk-5 Upgrade Kit, NSN 1670226319606 | |
| 80049090 | QRB Overhaul Kit | |
| | | |
| 90018910 | LF PQR, Personal Quick Release, manual release | |
| 90018915 | LF PQR, Personal Quick Release, f. wire release | |
| 90018920 | LF PQR wire release f. 90018915 | |
| | | |
| Note: | This is just a selection of our range of products. Please ask for what you do not see ! | |