Guide Lines
Wide range, easy handling and safe operation
Guide line, Hi-line, Tag-line. All commonly used terms for a piece of line. Not just a standard piece of rope though…
Guide lines are used to keep the connection between the winch man and a vessel, to prevent a stretcher from spinning and are a useful tool in many other situations.
The built-in reflective stripes make your night operations safer, easier as the hole length of line becomes a glowing worm in the helicopters search light.
All guidelines come standard with a 3 kg weight bag, but you can choose almost any size. Attachment point at the upper end is an aluminum or stainless-steel twist lock karabiner in a 100 kg weak link.
Standard lengths are 30, 45 and 60 meters, but we can deliver any length to meet your standard. The line itself is 8, 10 or 12 mm double braided polyester, very flexible and almost kink-free.
Normally our lines are bright yellow, but upon request we are open for other possibilities. If you prefer black lines without reflex for special forces secret night operations, we can deliver that. If you want a bright red end indicator flag 5 m from the bottom, we can deliver that. Simply ask for what you do not see.
Sea water is not healthy for helicopter electronics. Mrs. Bucket will take care of the problem that wet lines creates when retracted from the water, as the watertight vinyl bucket is easily closed with the rugged zipper. Normally Mrs. Bucket come in bright orange but can be obtained in other colors if you like.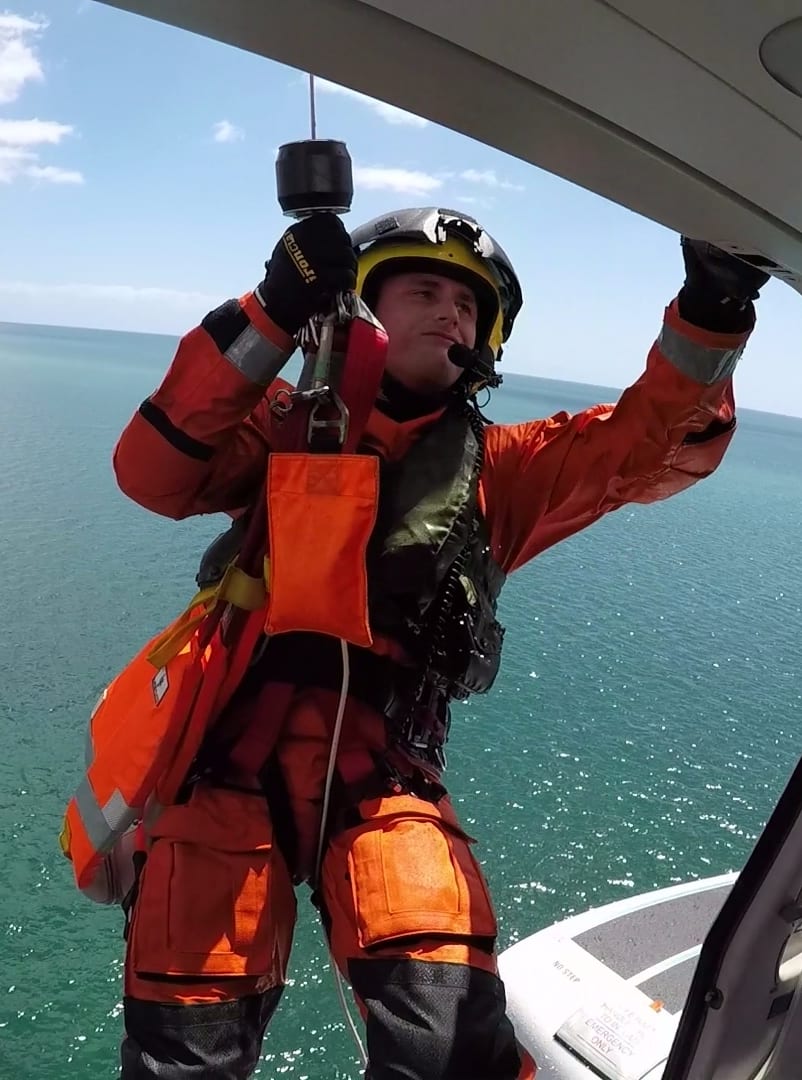 Built-in static discharge
10 and 12 mm lines can be delivered with a built in copper wire for static discharge. The extra weight also makes the line less sensible to wind.
| Part No. | Product | |
| --- | --- | --- |
| 60081555 | Guide Line Assy., Yellow, Reflex, 8mm x 30m | Product Sheet |
| 60081556 | Guide Line Assy., Yellow, Reflex, 8mm x 45m | |
| 60081557 | Guide Line Assy., Yellow, Reflex, 8mm x 50m, NSN 3990226278431 | |
| 60081558 | Guide Line Assy., Yellow, Reflex, 8mm x 60m | |
| | | |
| 60081550 | Guide Line Assy., Yellow, Reflex, 10mm x 30m | |
| 60081551 | Guide Line Assy., Yellow, Reflex, 10mm x 45m | |
| 60081552 | Guide Line Assy., Yellow, Reflex, 10mm x 60m | |
| 60081553 | Guide Line Assy., Yellow, Reflex, 10mm x 50m | |
| 60081554 | Guide Line Assy., Yellow, Reflex, 10mm x 70m | |
| 60081559 | Guide Line Assy., Yellow, Reflex, 10mm x 76m | |
| | | |
| 60081570 | Guide Line Assy., Yellow, Reflex, 12mm x 30m | |
| 60081571 | Guide Line Assy., Yellow, Reflex, 12mm x 45m | |
| 60081572 | Guide Line Assy., Yellow, Reflex, 12mm x 50m | |
| 60081573 | Guide Line Assy., Yellow, Reflex, 12mm x 60m | |
| 60081574 | Guide Line Assy., Yellow, Reflex, 12mm x 70m | |
| | | |
| 60081566 | Guide Line Assy., Yellow, Cu-lead, Reflex, 10mm x 60m | |
| 60081567 | Guide Line Assy., Yellow, Cu-lead, Reflex, 10mm x 30m | |
| 60081568 | Guide Line Assy., Yellow, Cu-lead, Reflex, 10mm x 50m | |
| 60081569 | Guide Line Assy., Yellow, Cu-lead, Reflex, 10mm x 45m | |
| | | |
| 60081577 | Guide Line Assy., Yellow, Cu-lead, Reflex, 12mm x 30m | |
| 60081578 | Guide Line Assy., Yellow, Cu-lead, Reflex, 12mm x 45m | |
| 60081579 | Guide Line Assy., Yellow, Cu-lead, Reflex, 12mm x 50m | |
| 60081580 | Guide Line Assy., Yellow, Cu-lead, Reflex, 12mm x 60m | |
| | | |
| 60081581 | Guide Line Assy., Yellow, Reflex, 10mm x 40m, w. end indicator flag | |
| 60081582 | Guide Line Assy., Yellow, Reflex, 10mm x 50m, w. end indicator flag | |
| 60081583 | Guide Line Assy., Black, 10mm x 50m, w. end indicator flag | |
| | | |
| 60081527 | Mrs Bucket, Narrow small, Guide line bag, Orange, NSN 8465226278432 | |
| 60081528 | Mrs Bucket, Guide line bag, Green | |
| 60081529 | Mrs Bucket, Guide line bag, Orange, Large Ø35x45 | |
| 60081530 | Mrs Bucket, Guide line bag, Orange | |
| 60081536 | Guide Line Bag, black mesh, black top, removable reflex, Ø20x35, NSN 8465226278432 | |
| 60081537 | Guide Line Bag, black mesh, orange top, removable reflex, Ø20x35 | |
| | | |
| 60081563 | Portable Guide Line Assy, Wrapped, 6mm x 30m with 2kg weight | |
| 60081538 | Portable Guide Line Assy, Wrapped, 6mm x 50m with 2kg weight | |
| | | |
| 60081590 | Weight bag, Yellow, 1 kg | |
| 60081592 | Weight bag, Yellow, 2 kg, NSN 4220226155462 | |
| 60081593 | Weight bag, Yellow, 3 kg, NSN 1680226149465 | |
| 60081594 | Weight bag, Yellow, 4 kg | |
| 60081595 | Weight bag, Yellow, 2 kg, slim tubular | |
| 60081596 | Weight bag, Yellow, 1 kg, slim tubular | |
| 60081597 | Weight bag, Yellow, 3 kg, Top reflex | |
| 60081598 | Weight bag, Yellow, 4 kg, Top reflex | |
| 60081593B | Weight bag, Black, 3 kg | |
| | | |
| 60081510 | Weak Link, 20cm, 100-110kg, white 3/8 T3, straight loops, NSN 4010226295360 | |
| 60081511 | Weak Link, 20cm, 100-110kg, white 3/8 T3, twisted loops | |
| 60081512 | Weak Link, 55cm, 100-110kg, white 3/8 T3, twisted loops | |
| 60081508 | Weak Link, 20cm, 120-130kg, orange 1/2 T3, twisted loops | |
| 60081509 | Weak Link, 55cm, 120-130kg, orange 1/2 T3, twisted loops | |
| 60081513 | Weak Link, 20cm, 160-170kg, yellow 3/4 T3, twisted loops | |
| 60081514 | Weak Link, 55cm, 160-170kg, yellow 3/4 T3, twisted loops | |
| 60081517 | Weak Link, 20cm, 170-180kg, red 5/8 T1, twisted loops | |
| 60081518 | Weak Link, 55cm, 170-180kg, red 5/8 T1, twisted loops | |
| | | |
| 60081515 | Spare Reflex for mesh bag | |
| 60081516 | Spare Blank Name Tag for mesh bag | |
| 60081599 | Light stick connector f. guide line | |
| | | |
| Note: | This is just a selection of our range of products. Please ask for what you do not see ! | |