Gunner belts & landyards
Lite Flite produces gunner belts, a.k.a. monkey belts or body positioning straps, and all sorts and lengths of lanyards for securing the crew during open door missions.
Gunner belts are used by the helicopter winch man to keep him safe inside the helicopter during search and rescue operations.
Lumbar support
Lite Flite gunner belts come in multiple configurations, all built from the same basic construction; A wide, reinforced lumbar support that can be adjusted in the waistline from 60 to 150 cm. For added security, the adjustable front piece of the belt can be equipped with dual click lock buckles.
Fixed or removable
Our gunner belts are equipped with either a fixed lanyard or a tang/d-ring combination for attaching a removable lanyard.
The lanyard is equipped with a length adjuster that does not loosen due to vibrations and wind blast.
Lanyard connector
As an extra feature, customers can purchase our lanyard connector, which is short strap with a hook or karabiner that can be clipped on to the middle A-ring of the QRB suspension in one end, and a click long tang for attaching our click lock lanyards in the other. By using this little device and a hoist harness equipped with a similar tang, the winch man can be secured in the helicopter, without the need for a separate gunner- or monkey belt.
Like the rest of our helicopter equipment, Lite Flite's gunner belts and lanyards are made of corrosion treated stainless steel and anodized aluminum, as they are sea water resistant and need minimal daily maintenance.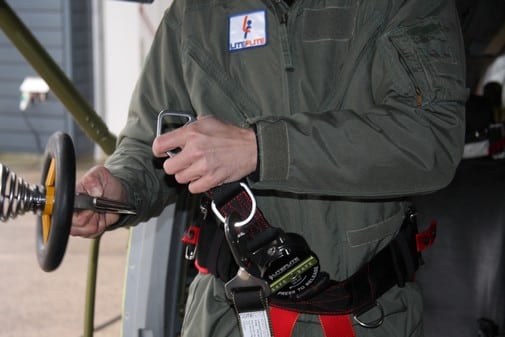 Moveable lanyard attachment
Many of Lite Flite gunner belts are equipped with our unique, moveable lanyard attachment, like those found on our hoist harnesses. It can be placed in the user's favorite position to the left, right, center or something in between and is a great tool to improve the working conditions for the hoist operator.  
The lanyard attachment accepts all lanyards, whether it is snapped on by a karabiner, Personal Quick Release or click-lock buckle.
Type certification
Lite Flite hoist harnesses are type tested and -approved iaw European Council Regulation 2016/425 and associated European Norms EN813, EN1497, EN358 etc. The EC Regulation has replaced the old, so-called Fall Protection Directive 89/686.
Lite Flite hoist harnesses are considered "Simple PCDS" iaw EASA Certification Memo CM-CS-005, as included in the latest amendment of CS-27 and CS-29.
| Part No. | Product | |
| --- | --- | --- |
| 60081605 | Gunners Belt NG, movable lanyard att., Dual click lock | Product Sheet |
| 60081606 | Gunners Belt, reversed, dual clicklock, single D-ring back | |
| 60081607 | Gunners Belt NG, movable lanyard att., Single click lock | |
| 60081608 | Gunners Belt, single click-lock and 2 tangs | |
| 60081609 | Gunners Belt w/ 2 tangs, D-ring back | |
| 60081609A | Gunners Belt, buckleless, A-ring one side, CLB tang other side | |
| 60081610 | Gunners Belt, 2 click locks, XL | |
| 60081611 | Gunners Belt, Dual Click Lock, 2.7m adj. lanyard | |
| 60081612 | Gunners Belt, Dual click-lock, 2.5m adj. lanyard, shortener snap, EH101, NSN 1680226140191 | |
| 60081613 | Gunners Belt | |
| 60081614 | Gunners Belt 1 Click 2,5m Adj lanyard | |
| 60081614A | Gunners Belt 1 Click 1,5m Adj lanyard | |
| 60081614B | Gunners Belt 1 Click 2m Adj lanyard | |
| 60081614C | Gunners Belt, 1 click, 3m lanyard | |
| 60081616 | Gunners Belt / Drop harness, CL604, 1670226205634 | |
| 60081617 | Gunners Belt, 2 click locks, w/ lanyard, 1680226269492 | |
| 60081618 | Gunners Belt | |
| 60081624 | Gunners Belt 2-Click, 140cm lanyard, 1680226202883 | |
| 60081628 | Gunners Belt 1 click adj.B12+D-Ring | |
| 60081661 | Gunners Belt, Dual Click Lock, XS, 2.2m adj. lanyard | |
| | | |
| 60081620 | Dispatcher / Hoist Operator Harness, NSN 1670226292900 | |
| 60081625 | Dispatcher / Hoist Operator Harness XL | |
| 60081431 | Hoist Operator Harness, S/M, Full Body EN361, for PQR attachment | |
| 60081433 | Hoist Operator Harness, M/L, Full Body EN361, for PQR attachment | |
| | | |
| 60081621 | Lanyard, click lock, 1,5m, adj. | |
| 60081622 | Lanyard, 1,6m, Adjustable, 2 Karabiner, NSN1010226243600 | |
| 60081623 | Lanyard, adjustable, 2 karabiner, 2,5m | |
| 60081627 | Lanyard, Click lock, 2,5m, adj., AH 704A41816098 | |
| 60081629 | Lanyard Connector Strap w. karabiner, AH 704A41816097 | |
| 60081634 | Lanyard, click lock, 2m, adj. | |
| 60081636 | Lanyard, 3m adj., PQR/karabiner | |
| 60081637 | Lanyard, 1.5m adj., PQR/karabiner | |
| 60081638 | Lanyard, 1.5m adj., 2 inox karabiner | |
| 60081639 | Lanyard, 2,1m, Adjustable, 2 Karabiner | |
| 60081641 | Lanyard, 2.8m adj., PQR/karabiner | |
| 60081647 | Lanyard, karabiner / double stud, 3m, adj. | |
| 60081648 | Lanyard, click lock, 4.5m, adj. | |
| 60081652 | Lanyard, 1,7m, Adjustable, 2 Karabiner | |
| 60081655 | Lanyard 2.2m, Elastic, Adjustable, 4010226262160 | |
| 60081622W | Lanyard, 1,6m, Adjustable, F&C release | |
| 60081627G | Lanyard, Click lock, 2,5m, adj., SuperSafe Inox karabiner | |
| 60081629G | Lanyard Connector Strap w. SuperSafe Inox karabiner | |
| | | |
| 60081690 | Merlin Block UB033, 3.3m | |
| 60081692 | Energy Absorber w. karabiners, 48/180 cm | |
| | | |
| Note: | This is just a selection of our range of products. Please ask for what you do not see ! | |